There's no doubt that the Marvel Comics Universe is here to stay; there's always a buzz around the latest offering, and they still draw huge crowds to the theaters – they've earned over $12 billion for the studio so far. How do they consistently manage to generate such eye-watering amounts? There's a number of reasons… firstly there are the die-hard comic fans who want to see how well the movie brings the characters and stories to life, but then there's also the fact that these big-budget movies offer a welcomed break from reality, and the chance to hang out with some pretty cool heroes and villains for a couple of hours.
While it's usually the male characters that get most of the attention, it can't be denied that the MCU is home to some of the best female characters in film; I'd even go so far as to say that they beat their DC counterparts hands down. These women are not only intelligent and sassy, they can also kick some serious butt! Oh, and then of course there's the fact that they're all completely freaking gorgeous – what's not to love?!
With almost 5000 more characters to potentially bring to the big (or small!) screen, we're likely to see plenty more hot actresses entering the Marvel movie world in due course. But for now, let's take a look at 15 of the fiercest and eye-pleasing women that have graced the MCU with their presence in recent years. Do you agree with these choices? Have I missed anyone off the list? Continue scrolling to keep reading
15 Evangeline Lilly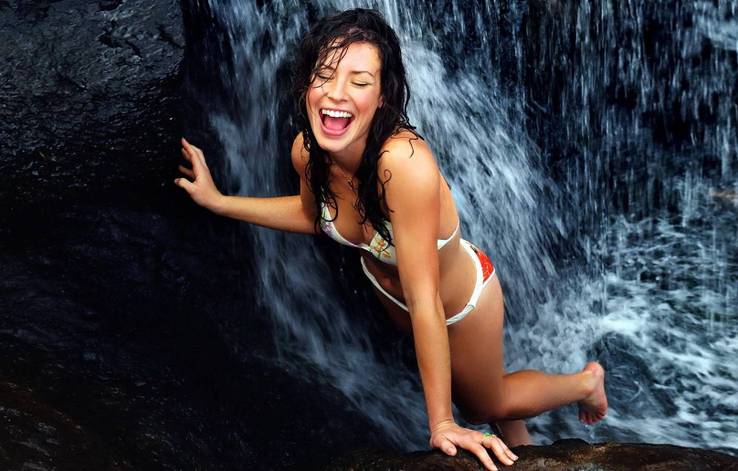 While most people probably still know her best as Kate from the TV show Lost, the stunning brunette has had several other high-profile gigs since it ended in 2010. She starred as Real Steel a year later, followed by roles in two of the Hobbit movies, but Marvel fans will recognize her as Hope van Dyne from the Ant-Man movie from 2015.
If you haven't had enough of Evangeline (and who has?!), worry not; she's set to star in next year's Ant-Man sequel – which, by the way, also has the benefit of having the still-gorgeous Michelle Pfeiffer added to its cast. She's currently filming her part in the next Avengers movie too – alongside another seriously hot actress who features further down in our list (side note: it's probably not who you think it is).
At 38 years old, Lilly is in better shape than some women half her age – so hopefully she'll continue her Marvel role for years to come!
14 Hayley Atwell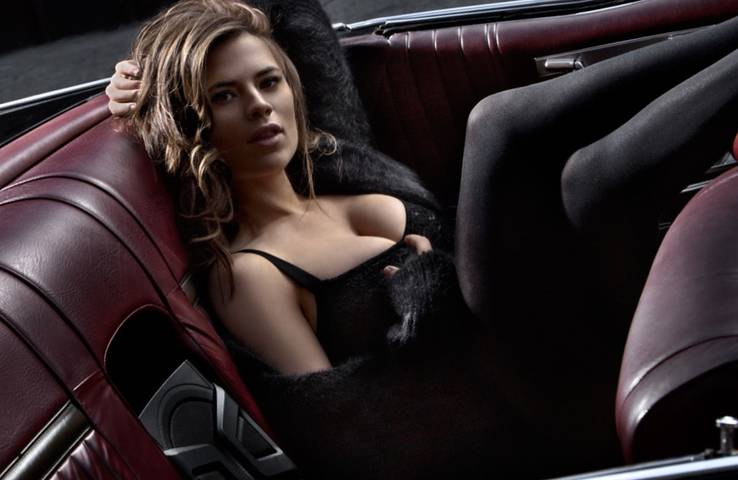 Here's Marvel's own Peggy Carter, aka 35 year old British-American actress Hayley Atwell. Given that both of her parents are motivational speakers, it's no huge surprise that the actress managed to work her way to the coveted position of becoming a staple character in the MCU.
Since her first outing in the role in Captain America: The First Avenger, the voluptuous beauty has gone on to star in several other Marvel movies, including Ant Man and Avengers Age of Ultron. She also managed to land her own spin-off series; Agent Carter, but sadly it wasn't to be a long-running project – it was canceled after 18 episodes due to low ratings.
If you're having withdrawal symptoms from the lovely actress' screen presence, you could always catch up on her latest project; she has a lead role in the ABC sitcom Conviction. Alternatively, she'll be starring alongside Ewan McGregor in 2018's Christopher Robin, though we imagine that will have a little less of the butt-kicking action she's used to.
13 Scarlett Johansson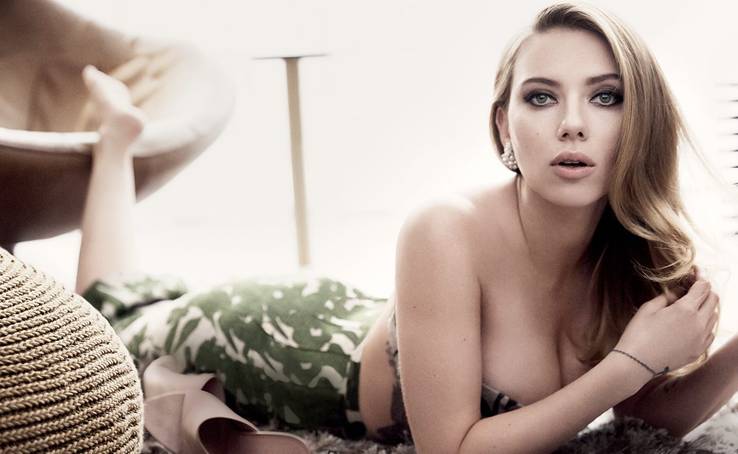 The blonde bombshell is basically a veteran of Hollywood despite being only 32 years old, so it was no surprise that she landed the coveted role of Black Widow in the 2012 Avengers movie. She's since gone onto become something of a staple in the MCU, having starred in the 2015 Age of Ultron, and two Captain America movies – clearly she's enjoying the chance to demonstrate her action skills as well as her beauty!
Though she's recently come up against a bit of backlash due to accusations of whitewashing for her role in Ghost in the Shell, there are still plenty of people who are very happy to see her up on the big screen – and looking at the picture above it's not too hard to see why! Thankfully we won't have to wait too long, as she's recently finished filming the next Avengers movie, due out next year!
12 Cobie Smulders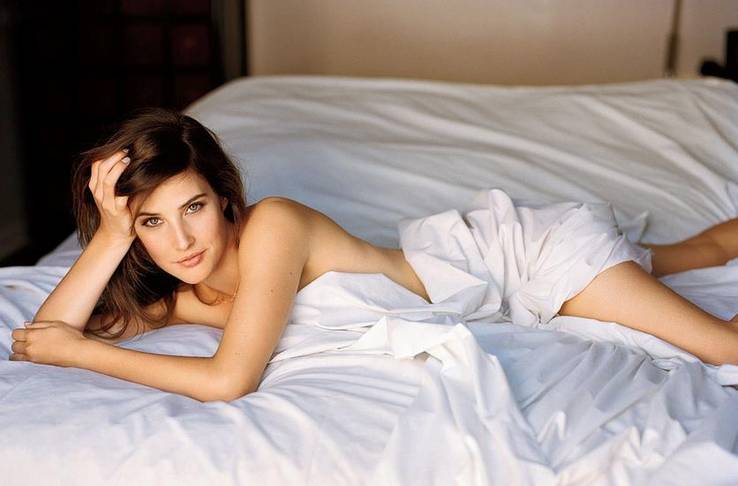 The actress' appearance as Maria Hill in the MCU is a pretty big departure from her most well-known role on How I Met Your Mother – one she played for a total of nine years – but no one could argue that she hasn't made the part her own. She was given her start in the Marvel world in 2012, when Joss Whedon directed the first Avengers movie, as she explained in an interview with Esquire:
"The Avengers happened because I'm friends with Joss Whedon, and he sort of brought me into the mix when they were looking for Maria Hill."
Well, she's probably very glad that her pal did her a solid, having since starred in another Avengers film, a video game for the franchise, and a guest spot on the Agents of S.H.I.E.L.D. TV show. With another Avengers offering coming to theaters next year, there's every chance we'll get to see her reprising the role very soon!
11 Zoe Saldana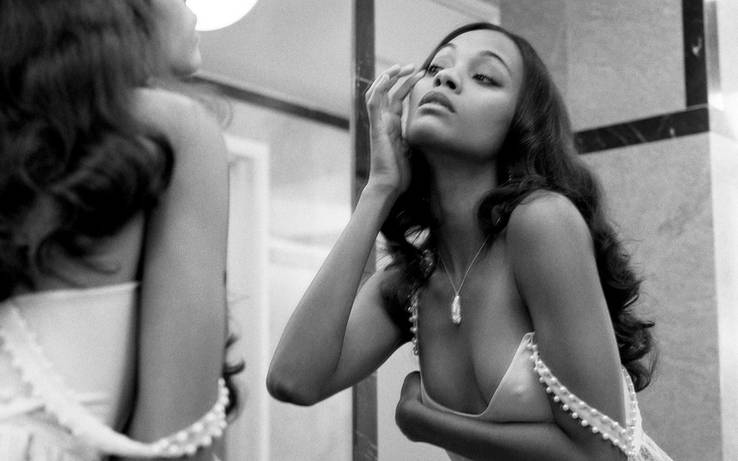 If anyone can make a green alien look sexy, it's Zoe Saldana, aka Gamora in the Guardians of the Galaxy films. The actress already had experience of extreme movie makeup thanks to her role in Avatar back in 2009, though thankfully we've had plenty of chances to see her natural beauty in a range of film and TV projects since then.
However, it is fair to say that her movie resume has been pretty sci-fi heavy in the past; something that hasn't always been a positive for the actress, as she told The Independent earlier this year:
"It's hard when you go and fight for a role, because they're like 'I don't know, man, you mean, it's like the blue girl from Avatar? I don't know, I want to go down a different route.' I feel like a little bit of an underdog because I live in space, nobody wants me here on Earth."
She may have a point; with another Guardians film in the works, as well as four more Avatar instalments, it could be a while before she gets to play a human again!
10 Natalie Portman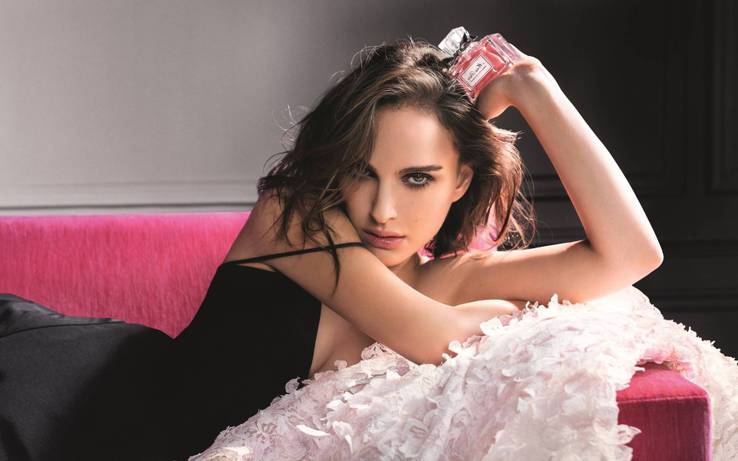 Okay, so it's been a while since Natalie Portman was involved in the Marvel Universe, but what kind of a list would this be if we didn't include her? She starred as Jane Foster in the Thor movies in 2011 and 2013, alongside the superhero himself Chris Hemsworth.
While some fans may have been disappointed to learn that she wouldn't be starring in Thor: Ragnarok, it seems that the actress herself wasn't too bothered; it's rumoured that she was unhappy with the lack of dialogue her character had in the films, and was also upset about Patty Jenkins, who was set to direct the second movie, being fired by Marvel.
The good news though, is that you'll still have plenty of opportunities to see the brunette in action; along with a handful of projects released this year, she's also just finished filming two movies and is working on a TV mini-series, the summary of which sounds pretty intriguing… according to IMDb: "A college student laments the loss of a chimpanzee she claims is her "twin sister".
9 Chloe Bennet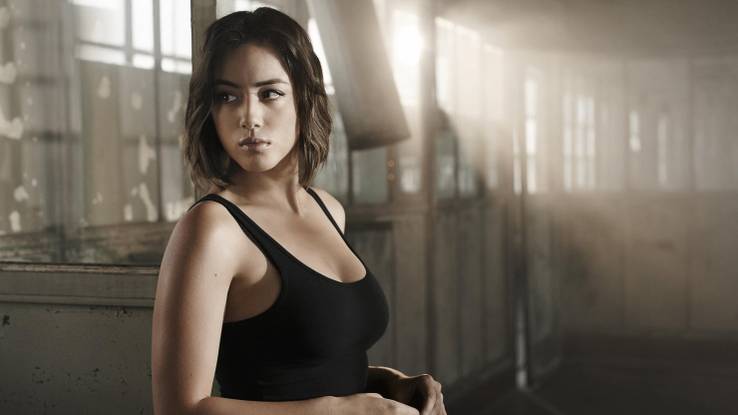 If you're familiar with the 25 year old actress, it's probably either because of her year-long stint on the TV show Nashville, or perhaps more likely, her part as Daisy Johnson in Marvel's Agents of S.H.I.E.L.D. (and if you hadn't heard of her before, you're welcome). Believe it or not, she also had a career as a teenage pop star in her father's home country of China, though thankfully for us she decided that wasn't where her passion lies.
Growing up with six brothers meant that she became a fan of comics at an early age, something that has probably given her a nice foundation for her entry into the MCU. In a recent interview with Teen Vogue, she spoke of her love for one character in particular:
"She can be kind of a villain, but I love Jean Grey. She was one of the first, and I loved the X-Men. I still do! I really love Marvel. Something about Jean's character resonates with me."Featured Today
8 Kat Dennings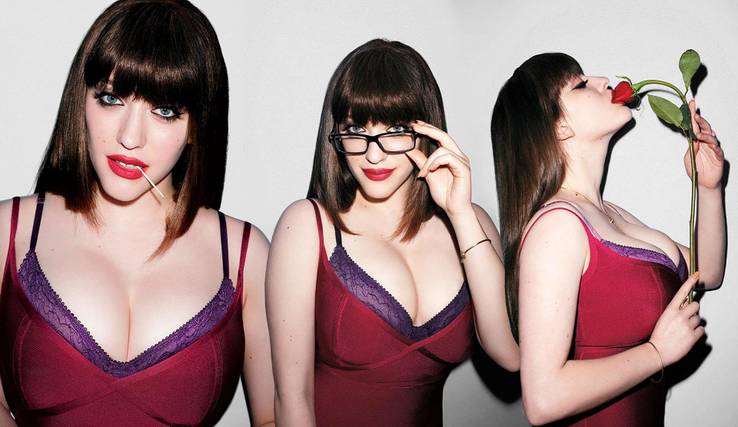 Probably best-known for her 6-year stint on the TV comedy 2 Broke Girls, the hilarious (and gorgeous) actress became a part of the Marvel world back in 2011 when she took on the role of sarcastic sidekick Darcy, in the first Thor movie. After reprising the character in the second instalment, her rather short-lived MCU encounter was over… maybe she'll crop up again in the future? We can live in hope!
It would be interesting to learn a bit more about Darcy, considering she was something of a mystery, as Dennings pointed out in an interview with Crave:
"I don't even know where Darcy goes to college. Probably a community college. She probably just doesn't go anymore. I'm guessing she goes to some local Santa Fe college and she just stopped going because she loves Jane and just doesn't need to go to college, because she figures she'll die soon or something. I don't know!"
7 Rachel McAdams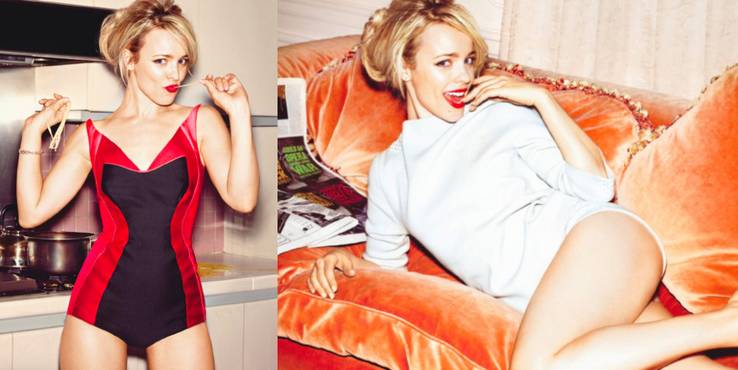 Along with being one of the most underrated actresses in Hollywood, Rachel McAdams is undoubtedly one of the prettiest too. Her role as Christine Palmer in 2016's Doctor Strange may seem like a bold choice for the actress, who is mostly known for being the 'girl next door' type in romantic comedies, if you look at her filmography she has actually taken on pretty diverse choices.
Sure, there are her leads in rom-coms such as About Time, The Vow, and The Time Traveler's Wife, but then she's also been in grittier stuff like True Detective, Southpaw, and Spotlight. Her next movie Game Night, sounds pretty intriguing too; it's a comedy about a group of board-gaming friends who get caught up in a murder mystery, and she's also rumoured to be reprising her role in the Sherlock Holmes movies.
Whatever she does over the next few years, I'm sure a lot of guys will probably just be happy to see her in something without being forced to watch The Notebook again.
6 Ming-na Wen
If you've seen her starring in Marvel's Agents of S.H.I.E.L.D. TV show, then you'll know that this butt-kicking beauty is a force to be reckoned with. What you may be surprised to learn though, is that she's probably a little (or a lot!) older than you originally thought; 54 to be exact. The actress puts her vampire-like lack of ageing down to her intense workout regimes; something that even scored her the role as Melinda May as her agents made the decision to put her forward for gigs that most actresses her age wouldn't have a shot at.
Despite her role as the troubled agent, Ming-Na is bubbly and vivacious, though she admits she did feel apprehensive about entering the sci-fi genre due to her past as a bit of a geek, as she told the Wall Street Journal: "When I first started out, I was trying so hard to not be in that realm. It was against all of my instincts — I grew up as a total geek girl, I was the president of my high school's sci-fi club — but I kept on telling myself, if you want to get respect, you have to be a serious actor."
5 Karen Gillan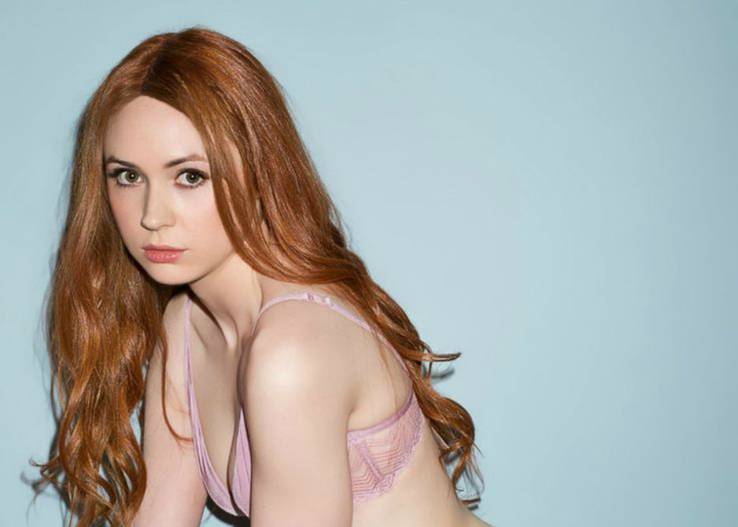 Chances are, if you're a fan of the sci-fi genre, you've probably seen this red-haired beauty in something in recent times. She starred in the British TV series Dr. Who for five years – something of an institution in itself, and has gone on to star in both Guardians of the Galaxy movies.
In fairness, you may have missed her role as Nebula in the MCU, given that, like her co-star Zoe Saldana, she is transformed by a bucket load of makeup – with a shaved head to boot! It's a strong look… but hey, if anybody can pull it off, it's safe to say that the stunning British actress can, she did used to be a model, after all!
If you're a fan of the blue, bald-headed look (no judgement here…) you'll probably be very pleased to know that Gillan is entering the Avengers realm very soon, starring as Nebula in both Infinity War (out next year), and the following instalment due to be released in 2019.
4 Elizabeth Olsen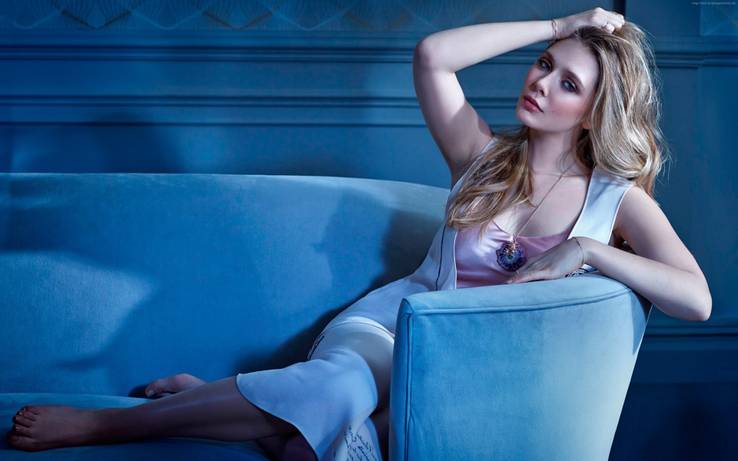 Though she is less well known than her two older sisters, the actress has proven that she is definitely no less talented. Unlike Mary-Kate and Ashley, she was far from being a child star, getting her first acting gig at the age of 22. Since then she's mainly chosen to work on smaller projects, like 2012's Liberal Arts or Kill Your Darlings the following year.
It was her role as Wanda Maximoff from Marvel's Captain America, however that has really seen her come into the spotlight a lot more. Since her cameo in The Winter Solider in 2014, she has reprised the part three times; in Avengers: Age of Ultron, Captain America: Civil War, and Avengers: Infinity War, which comes out next year.
You don't need to wait until then to get your fix of the stunning actress though; she's already had three movies out this year!
3 Zendaya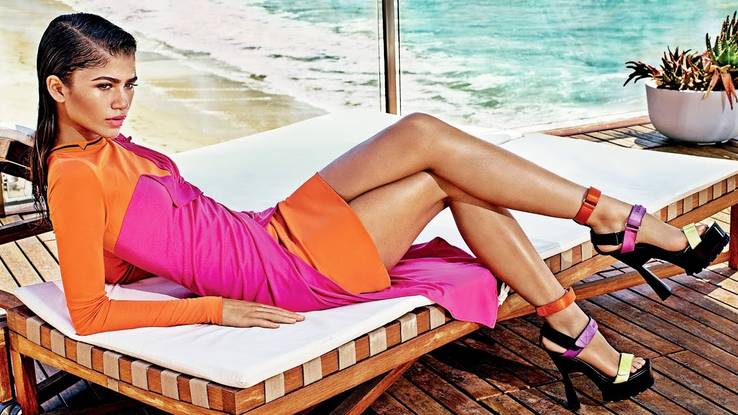 Given that she launched her showbiz career on the Disney Channel, things could have been very different for the gorgeous 21-year-old. Thankfully, she's managed to steer clear of the troubles that many of her fellow alumni have faced, and instead has gone on to become one of the busiest actresses in the game. She's even found time to release an album, and star in a number of music videos for other artists, including Taylor Swift's Bad Blood and Bruno Mars' Versace on the Floor.
Since entering the spotlight back in 2011, the starlet has landed appearances in plenty of movies and TV shows, including Marvel's Spider-Man: Homecoming, released earlier this year. Granted, her role as Michelle, or 'MJ', was only a small one, but with another instalment due for release in 2019, she will hopefully get a larger chunk of the action – and we definitely wouldn't be complaining about that!
2 Tessa Thompson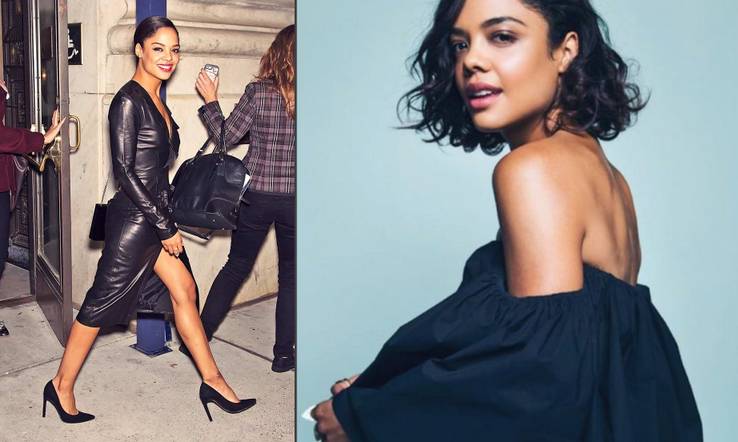 We won't blame you if you're not too familiar with this gorgeous actress; despite working in the industry pretty consistently over the last decade, she's yet to become a recognizable face. However, this is probably about to change in a big way thanks to her role in the recently-released third Thor instalment; Ragnarok.
The movie has been getting pretty rave reviews across the board, despite many fans' initial concern that director Taika Waititi's more comedy-esque approach to the movie would have a negative impact. Unlike her real-life persona, Thompson's character of Valkyrie is something of a tomboy; the actress told Vanity Fair:
"We wanted to create a character that was not conventionally beautiful. Just sort of messy—the idea was that she just never washes her face, you know? There's nothing pristine about this woman."
Also starring in the film is the equally beautiful Cate Blanchett who plays Hela, the Goddess of Death, and though we ran out of spaces in this list, she is definitely worthy of an honorary mention!
1 Jessica Henwick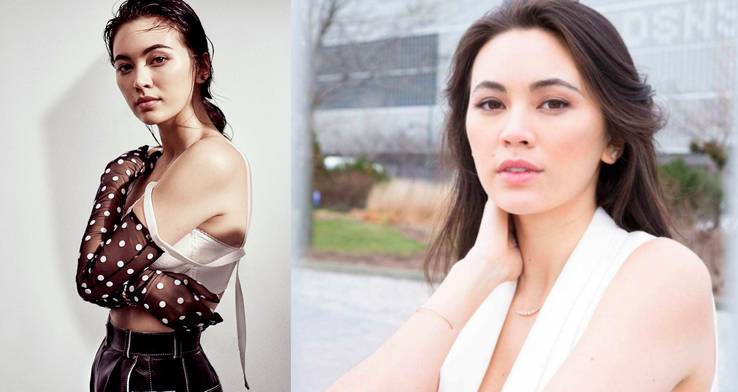 The gorgeous 25-year-old British actress became a fully-fledged member of the MCU earlier this year, when she took the part of Colleen Wing in the TV series Iron Fist. She came to the part amidst a sea of controversy around the casting choice of Finn Jones as the show's hero, Danny Rand; a role that a lot of fans felt should have been portrayed by an Asian actor.
Thankfully, she didn't let the controversy stop her from taking on the part; revealing in an interview with IndieWire that it was the chance to play the bada** character that made up her mind:
"I'm Asian. I'm an actor. If anyone understands the conversation, it's me. I've lived and breathed it. When I came on to 'Iron Fist,' it was really Colleen Wing that sold it for me. I thought it was a good opportunity to see a really strong female Asian American. [But] I would love to see an Asian American superhero.